Verizon or T-Mobile, what's the best carrier to have an iPhone X or Galaxy S9 on?
10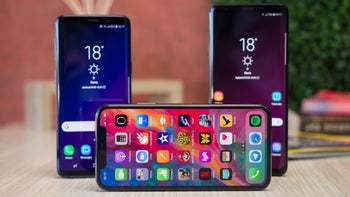 Entangled in a
patent war with Qualcomm
, Apple is trying to avoid the use of its components like cellular modems anyway it can, and has been shipping iPhones with Intel modems for a while now, destined for GSM networks like AT&T. The
iPhone X
isn't spared this duplicity and comes in versions with both Qualcomm's X16 LTE modem, and Intel's XMM7480.
The X16 was the modem of choice for most flagships sold in the US last year, as it allows CDMA network tapping, and up to 1Gbps downloads, but since the Intel chip maxes out at 600Mbps,
Apple neutered the X16
to even all models out. The bad part, however, is that there are still differences in download speeds between the iPhone X's A1865 model, which is on Verizon or Sprint, thus uses the Qualcomm modem, albeit in a crippled version, and the more widely available A1901 variant with the Intel modem that's shipped to AT&T, T-Mobile, and most every other GSM network globally.
What's left to test now? Well, how does the iPhone X fare against an even faster
X20
in this year's Android flagships with Snapdragon 845? You apparently need a phone like the
Galaxy S9
, or the
G7
that support the latest LTE cat. 18 speeds of up to 1.2Gbps, and all the new rural bands that T-Mobile and others are rolling out across the country, too. The folks from Speedtest ran a comparison with the iPhone X, and found out it serves much slower download speeds on average than Samsung's latest Galaxy S9, no matter which carrier it's hooked to.
Overall, if you are an iPhone X owner, you are best off on Verizon, as you can see from the table below, but you will still experience much slower speeds on average than if you are with the Galaxy S9. Given that in big cities the two fastest carriers - T-Mobile and Verizon - are
crossing the 30Mbps average speed threshold
these days, that difference might start being noticeable. Bear in mind that the report generated more than 300,000 iPhone X samples, while the Galaxy S9 pool was ten times smaller, but it's still quite telling who's a speed king and explains why
the S9 was the phone of choice to demo pre-5G speeds
achieved on a commercial LTE network recently.