Note 8 vs iPhone X download speeds test shows how Gigabit LTE matters
33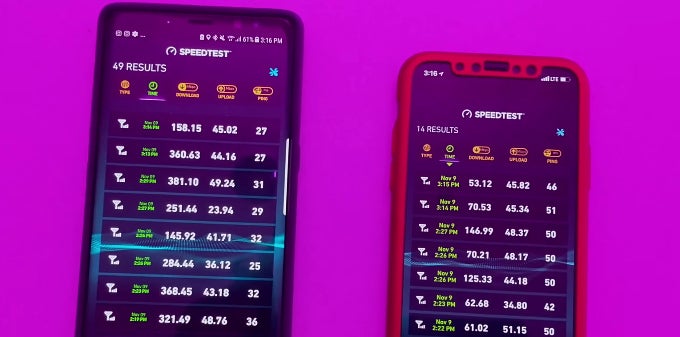 A few days ago, T-Mobile and Qualcomm got together to demonstrate the power of Gigabit LTE. Well, Qualcomm was flaunting its X16 series modem, while T-Mobile got to the airwaves to announce that its high-speed LTE Advanced network is available in more than 920 markets, out of which 430 can flaunt up to Gigabit LTE speeds.
According to Qualcomm, tapping into Gigabit LTE availability gets you some amazing download speeds by merging carrier aggregation with 4X4 MIMO and other speed-boosting tech, but how important is that in practice? Well, someone took the
Note 8
, which sports a Gigabit LTE modem, and the
iPhone X
that maxes out at 600Mbps, and, even though T-Mobile couldn't really serve the theoretical 1Gbps speeds in the test places, the Note 8 was still twice faster in download speeds achieved in the same spot.
This is due to the higher bandwidth that comes with Qualcomm's Gigabit LTE modem by combining various carrier access technologies, but
Apple has an axe to grind with Qualcomm
, and will probably try to secure the next generation of wireless modems for its future iPhones
from Intel
instead. In fact, the word on the street is that Apple is already working towards
5G modem design together with Intel
, whose introduction will probably precede the actual mass 5G rollout, so we might see the next-gen iPhones to come predominantly with Intel inside, instead of Qualcomm.