Galaxy S8 mass production to begin in March; 10 million units for April launch
42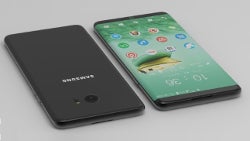 Over the past few years, Samsung has opted to launch its latest Galaxy S device at Mobile World Congress in Barcelona. With the Galaxy S8 series set once more to stake a claim among the year's biggest smartphone releases, it was long assumed that Sammy's next major Galaxy would arrive at MWC 2017. In a break from recent tradition, it instead looks like the Galaxy S8 will grace us with its presence
around April at a special event in New York
. In anticipation, a new report from Korea notes that Samsung has ordered some ten million initial units.
According to the report from
ETNews,
Samsung has briefed suppliers on plans for the Galaxy S8 over the past few days. Apparently, the first internal components will begin to reach manufacturing plants during next month, with a view to having full-on production in motion by March. The report mentions that 5 million units will be produced in March, with a further 5 million to be added during the intended launch month of April.