Samsung's Galaxy S8 to cost up to 20% more than S7 series
75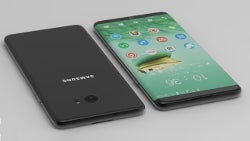 We heard a short while ago that Samsung's Galaxy S8
could be launched considerably later than usual
, with the company set to host a special event in New York in April. This would signal a departure from the expected announcement at Mobile World Congress, which takes place in late February. In what must be seen as more bad news for Galaxy enthusiasts, the next model(s) will apparently cost more than the current crop, with a price hike of up to 20 per cent being touted in a new report.
According to Goldman Sachs estimates, consumers can expect to pay 15-20 per cent more for the privilege of owning the Galaxy S8 compared with the Galaxy S7 series. The primary reason for this steep increase is supposedly
the enhanced AI digital assistant
that Samsung could integrate with the S8. This will drive up raw material prices, according to Goldman Sachs, which will subsequently be passed on to consumers.
Using the starting price of the Galaxy S7 edge ($799) as a guideline, we can surmise that the Galaxy S8 may cost in excess of $950 at base level. Since, as with the Note 7, the
flat Galaxy S model could be nixed
, the curved S7 edge perhaps offers a stronger indication of how much the S8 will set consumers back.
The question is, could you see yourself paying so much for a smartphone? Let us know what you think in the comments below.
Recommended Stories