Meet Galaxy Note 9: massive battery, redesigned S Pen and all-out performance
25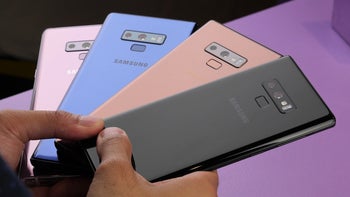 Samsung has just officially unveiled the brand new Galaxy Note 9 and yes, the leaks and rumors got it all right: it has a massive, 4,000mAh battery, a completely redesigned S Pen with wireless superpowers that allow you to use it as a remote and it is packed with the latest Snapdragon 845 chip and up to 8GB of RAM and 512GB of storage.
And yes, the bezels are just slightly thinner, but there is no notch, the good old 3.5mm headphone jack is here and you can easily expand your storage via the microSD card slot. Check, check and check!
Samsung has also not missed the note about AI: the quirky-looking dual camera system on the back of the Note 9 now supports artificial intelligence for some (hopefully) clever processing that will give images a boost without you having to open Photoshop (or Snapseed).
So what is the new Galaxy Note 9 all about? Let's first take a quick glance at the specs:
Specs
Samsung Galaxy Note 9
Dimensions
161.9 x 76.4 x 8.8mm, 201g
Platform
Android 8.1 Oreo
with Samsung Experience
Screen
6.4-inch Super AMOLED
Quad HD resolution
Chip
Snapdragon 845 in US
Exynos globally
RAM
6GB / 8GB
Storage
128GB / 512GB
+ microSD
Rear Cameras
Main (wide): 12MP, f/1.5-2.4
Telephoto (2X): 12MP, f/2.4
Dual OIS
Front Camera
8MP AF, f/1.7
Battery
4,000 mAh
Extras
IP68 water-resistant
Wireless fast charging
Iris scanner, Face recognition
Looks and Style
A snazzy blue and yellow one is a show-stealer
The Galaxy Note 9 features the familiar Galaxy style: beautiful glass and metal construction with sleek elegant curves, and a very slightly curved display.
The Note 9 comes in four different color options and what's new here is that each color comes with a different color S Pen for a sparkle of contrast and extra style points. Here are your options: you can get ocean blue (that's the one with the yellow S Pen), lavender purple, metallic copper, and midnight black.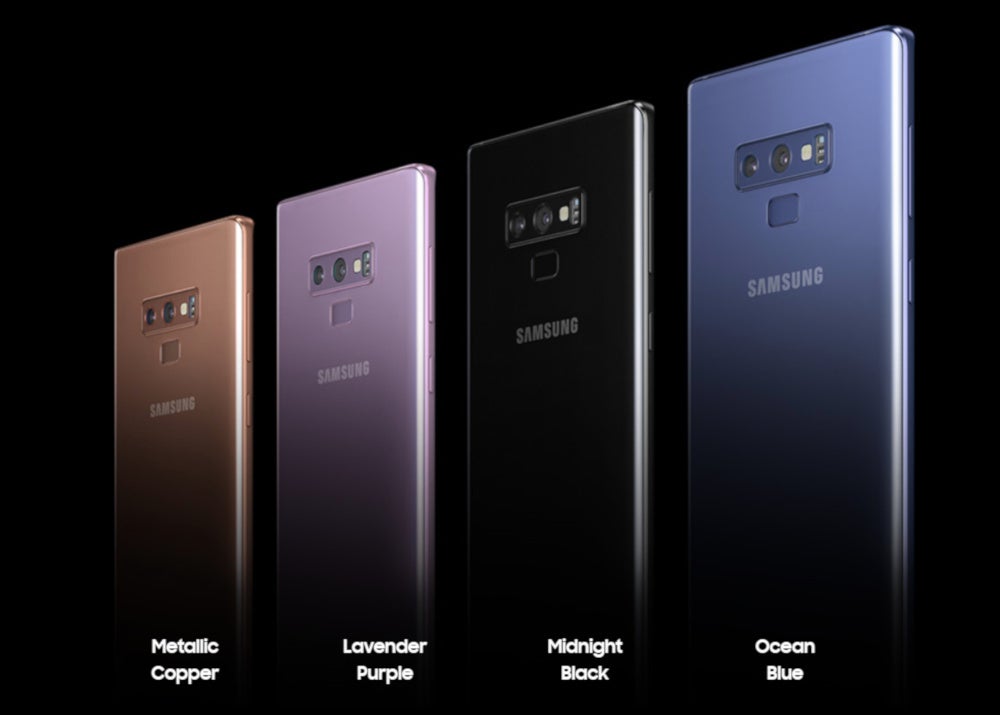 Big, big battery
Welcome to two-day battery life on a flagship phone

We've asked for a big battery in a flagship phone for a very long while. Okay, maybe not in the Note 7, but you get the point. And Samsung finally delivers: the Note 9 ships with a 4,000mAh battery, and while that might sound like just another number on a long spec sheet, it will have a transformative effect on the experience.
We don't have the exact battery life numbers just yet, but the 4,000mAh battery will easily last a day for even the most demanding users, and regular use of the Note 9 will probably result in a two full days off the charger. It's not just the day-to-day battery life, though: a larger battery that you charge less often, would also take much longer to deteriorate in the long-haul, so instead of having to replace your battery after 2 years, with the Note 9, this cycle will be prolonged even further. Talk about a future-proof phone!
S Pen has new tricks
Control your phone wirelessly from afar with the S Pen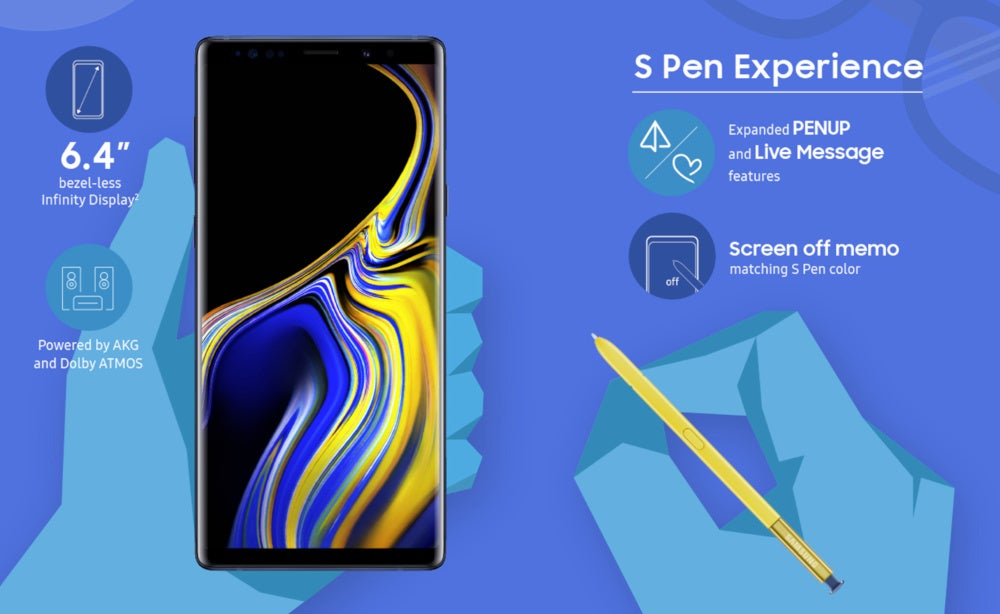 Yes, the S Pen comes in funky colors, but it also has learned a trick or two. First of all, it's now a wireless device that can control your phone via Bluetooth.
What does this mean in real life? You can do things like click on the S Pen to pause a YouTube video or double-click to skip to the next one. You can control things like music playback and you can customize it to your liking.
A quick 40-second charge will give you 30 minutes worth of battery life, so you don't really need to worry about running out of battery on the S Pen.
Camera: S9+ fame and a spice of AI
A familiar, great camera, improved.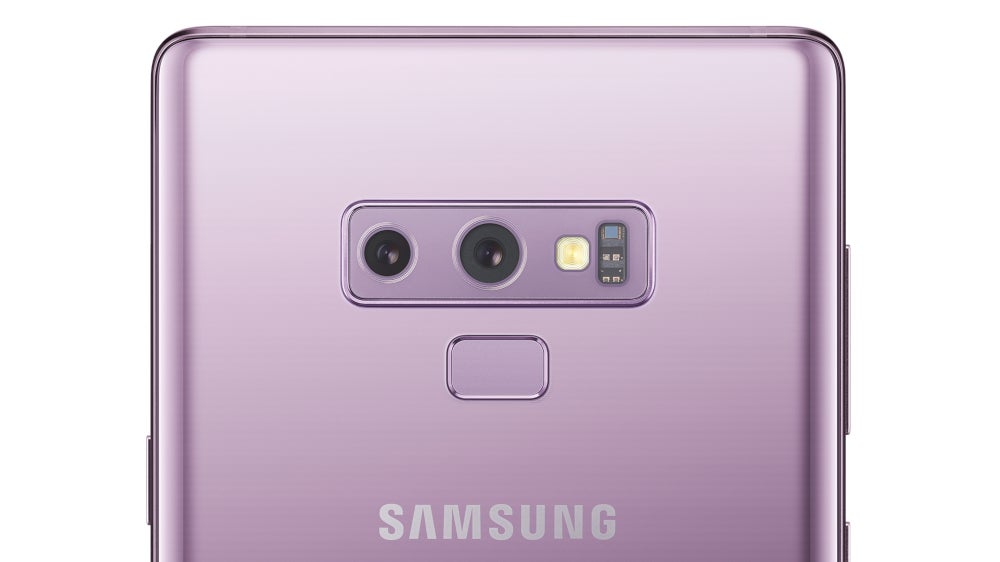 The new Note 9 has cameras that are very similar to what you saw on the Galaxy S9+, but rather than being oriented vertically, they have a quirky, horizontal arrangement that looks... well, different.
Looks aside, you have a main, wide-angle 12-megapixel shooter with a variable aperture camera that shoots at f/2.4 when you have good light, but opens wide to f/1.5 at night to capture every snippet of light. The secondary camera is a telephoto one, with a 2x times zoom (that means you get 52mm lens on the tele cam and 26mm lens on the wide one). Both cameras have optical image stabilization, aiding further in getting a sharp, blur-free image.
What's new, however, is that sprinkle of AI that Samsung calls 'Scene Optimized' mode. It is capable of automatically recognizing some 20 different scenes and tweaking the final image to look better, with more punch.
Performance
Power-up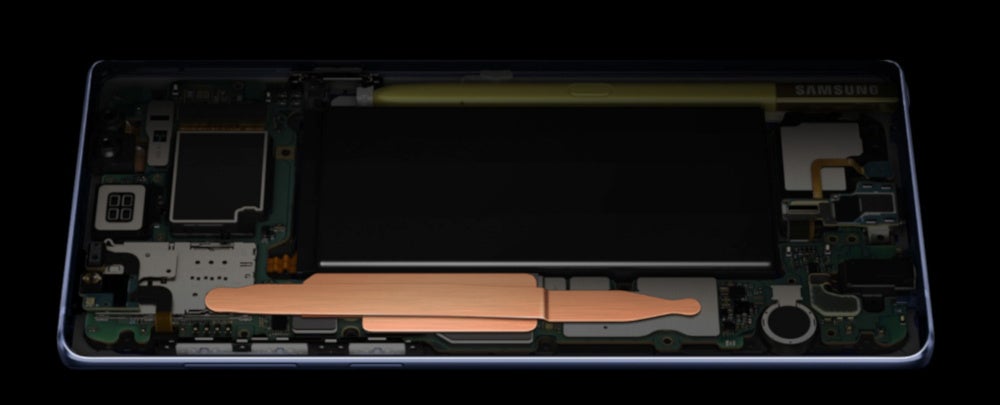 The Samsung Galaxy Note 9 is, predictably, powered by the Snapdragon 845 system chip, the latest and greatest 10nm system chip by Qualcomm. This is the version of the phone that customers in the United States will get, while globally, the Note 9 will run on a similarly powerful, 10nm Exynos chip.
Double-digit improvements in performance over the Note 8
Samsung claimed double-digit improvements in CPU and GPU performance on the Note 9 over the Note 8.
Gamers will be excited to learn that the Note 9 is one of the first Android devices to run Fortnite and that the phone itself comes with an innovative water-cooling solution that will allow you to run a hot streak on any game, without your phone getting hot.
Massive storage
128GB and 512GB models, both supporting microSD cards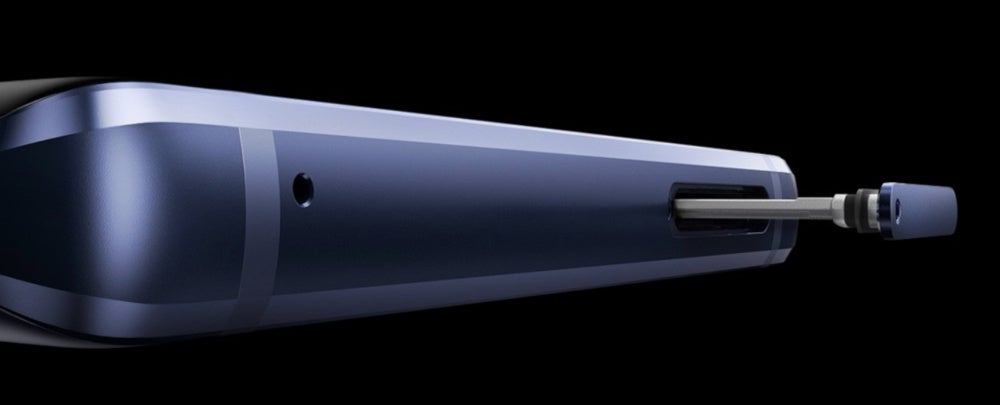 The Galaxy Note 9 is not the first phone with 512GB of storage on board (
Huawei's Mate RS did this earlier
), but it certainly is the first mass-produced device to offer such an option. Even the base model comes with double the storage of last year's Note 8: the Note 9 has 128GB of the stuff, while the Note 8 featured 64 gigs.
All of this might not impress you much in the first few months of use, but remember that you are likely to spend a year, two or even more with this phone and you get to save all your digital life on this device. Having sufficient storage gives you a lot of freedom to capture and record more on your device without ever worrying about running out of storage.
Price and release date
Premium pricing for a premium gadget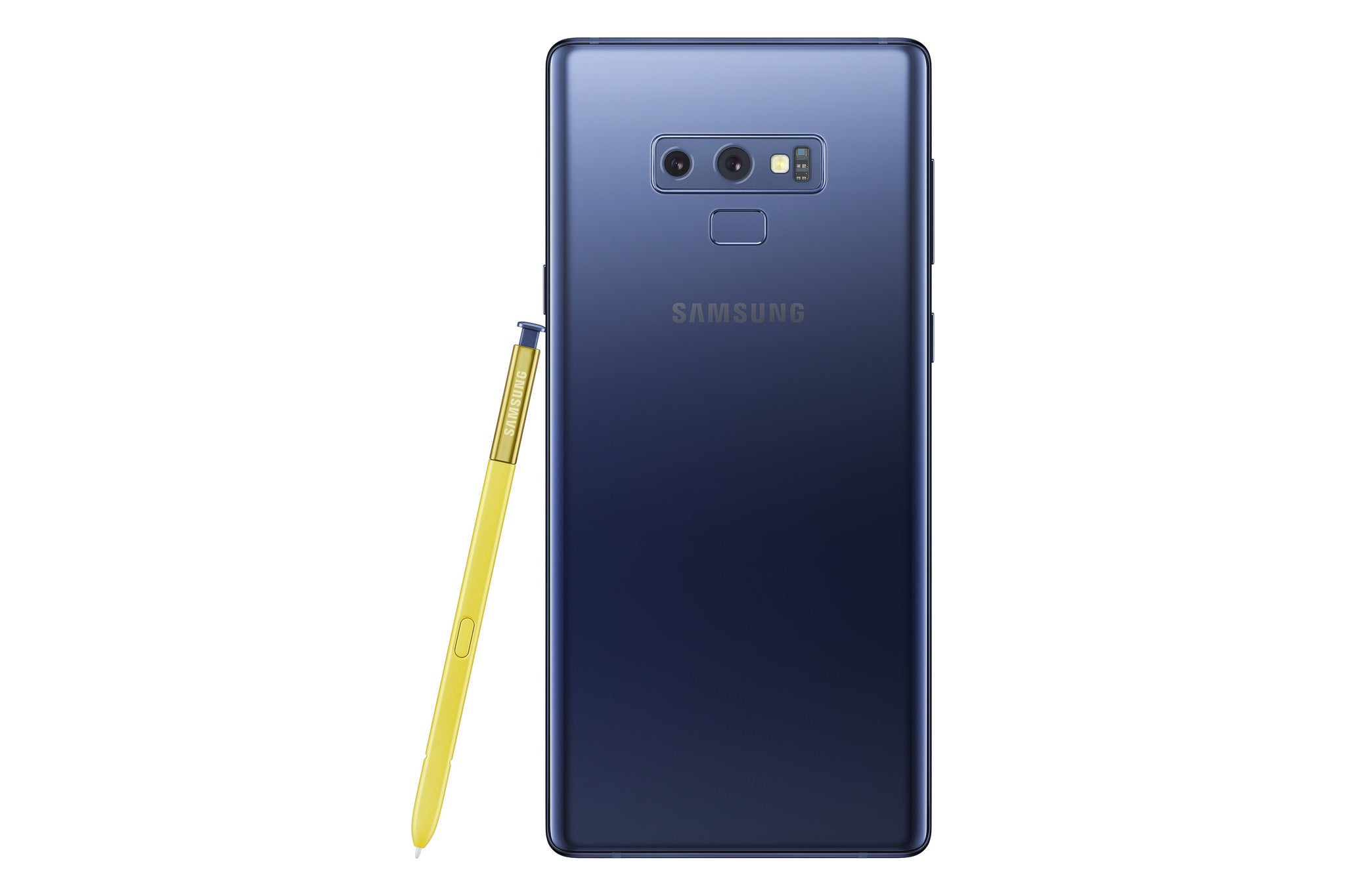 The Samsung Galaxy Note 9 is a beast of a phone and it's priced like one. The official price of the Note 9 in the United States starts at $1,000 for the base 6GB RAM/128GB storage model, while the supercharged 8GB RAM/512GB storage version will retail for $1,250.
Pre-orders for the Note 9 kick off tomorrow, on Friday, August 10th, and the phone will be available in about two weeks, on Friday, August 24th. Naturally, the Note 9 will be available on all major US and global carriers, and it will also be sold unlocked via Samsung.
So... what do you think about the Note 9? Is this your next phone?
MORE GALAXY NOTE 9 CONTENT