GT Advanced executive cashed in $2 million in stock as deal with Apple started to go south
7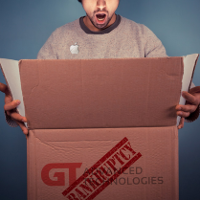 GT Advanced Technologies COO Daniel Squiller was deeply involved in the partnership between Apple and GT.
Apple was supposed to prepay GT Advanced $578 million
to help the company install the necessary equipment to turn Apple's Mesa plant into a factory churning out sapphire crystals. The crystals were to be turned into sapphire glass for use on the new
Apple iPhone 6
and
Apple iPhone 6 Plus
.
Squiller sold off $1.2 million of GT Advanced stock in May, and set up a sales plan that allowed him to cash in another $750,000
before the October 6th bankruptcy filing
. Since the company made that filing, the shares have dropped to 43 cents. In May, the shares ranged in price from $13 to $17.
In April, Apple made its third prepayment of $103 million, which had been due in February. But what really hurt GT Advanced was the last prepayment of $139 million, which Apple did not make. The decision not to make the payment was based on GT Advanced's failure to reach an agreed upon milestone. This left GT Advanced's cash below a certain level which could have allowed Apple to demand the immediate repayment of the $440 million that it had loaned to its partner. By filing Chapter 11, GT Advanced is protected from having to pay back Apple while the company reorganizes. After the court signs off on a plan. Apple might have to accept pennies on the dollar for the money it lent out.
Besides Squiller, GT Advanced Technologies CEO Thomas Gutierrez also set up an automatic selling plan in March. This led to the sale of $160,000 worth of GT Advanced's stock on September 8th, the day before Apple introduced its new 4.7-inch iPhone 6 and 5.5-inch iPhone 6 Plus. On that date, it became known that Apple had decided to spur the use of sapphire glass, instead
outfitting its two new smartphones with ion-hardened displays
.
Squiller still owns 232,735 shares of GT Advanced. At the recent peak of $20, those shares were worth $4.7 million. Now, they have a value of $10,000.
source:
WSJ