New iPhone 6 and 6 Plus don't have sapphire displays, are they Gorilla Glass?
41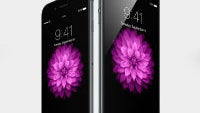 For quite a while now, we've been hearing rumors about the next generation iPhone having a sapphire display. We've heard about Apple's sapphire display
production plans
,
sapphire display patents
, and Apple buying up all of the sapphire displays around, leaving nothing for any other manufacturers. Unfortunately, none of that work has manifested in the new iPhone 6 or 6 Plus.
When Phil Schiller came out to announce the new iPhones, we were all waiting on what description would be used for the displays, and then Phil said "ion strengthened", not sapphire. This means that the display glass has undergone a chemical process which causes sodium ions in the glass surface to be replaced by potassium ions, which are larger and strengthen the glass. This is the same process that Corning uses to produce Gorilla Glass, so it may be that the new iPhones use Gorilla Glass. If so, it is a bit telling that Apple avoided saying the brand name of the display glass.
Apple obviously has plans to switch to sapphire in the future, and wants to distance itself from Corning and its Gorilla Glass. There is still hope for a sapphire display on the iWatch, but nothing on the iPhone just yet.