Full NFC support coming to Google Nexus S in the future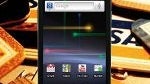 If you have been following the mobile phone industry in the last few weeks there is one handset you couldn't have missed – the
Google Nexus S
. The upcoming Nexus S was supposed to bring a revolution in cashless payments by promoting the near field communications (NFC) chip, which allows purchasing goods without the use of credit card. And while the NFC chip will be there, it will not
yet
be fully functional. What this means is that you would only be able to use it
one-way
, as a reader, rather than as a full-fledged transmitter used for purchases. But fear not, the limitation is only temporary.
NXP, the company that produced the chip, assured that it has released a protocol stack that covers all the functionality for other handsets as well. For the time being, you would only be able to use your NFC-enabled phone as a reader in one of the
many places
equipped with an NFC decal in the Portland, Oregon, area, for example. You would just have to point your phone to the decal to read the Google Places page of the store/locale.
In the near future, big G plans to roll out
step-by-step updates
that would gradually enable two-way transmissions and we would imagine these as part of an update to
Android 2.3 Gingerbread
. NFC works simply by pointing your handset to the receiving device to submit a transaction, but take into account that the technology works within a 4-inch range.
source: ReadWriteWeb via
IntoMobile