Former Jeopardy champ claims that he's been stiffed by HQ Trivia after winning $20,000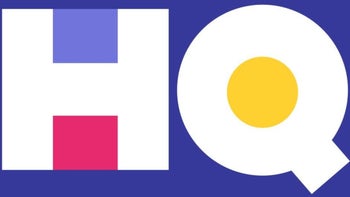 The other day we told you that
downloads of the HQ Trivia and Words app had declined 92%
over the first six months of this year compared with the same time period a year ago. Small prize pools and key departures are some of the reasons for the stunning drop off in interest. Now, a former
Jeopardy
champion and professional poker player is complaining that he has yet to be paid the $20,000 that he won on HQ Trivia last month.
A tweet disseminated by Alex Jacob (via
Business Insider
,
Tech Crunch
) notes that he won the $20,000 on June 10th and has yet to hear from HQ Trivia about getting paid. "Sadly, I don't think they're going to pay," Jacob wrote. He says if he is paid, he will delete the tweet and pay a random follower who retweets his post $100. Jacob isn't some slob who lucked into his prize, either. On
Jeopardy
, he amassed a small fortune (small by James Holzhauer standards) of $400,000 and won the Tournament of Champions in 2015. This year, he appeared on the "
Jeopardy
All-Star Games."
HQ Trivia says that "It may take some eligible winners up to 90 days to receive cash prizes," explaining why Jacob has yet to receive his cash. But it is no secret that the company is floundering and has been on the decline
since the overdose death of co-founder Colin Kroll
this past December. HQ Trivia plans to start charging $9.99 a month to subscribers who want to play the Wheel of Fortune-like HQ Words game daily. The company says that it has paid over $6 million in prizes and that 99% of players have been able to access their winnings with 48 hours of winning the game.
"We strive to make a game that is fair and fun for all players. As such, we have a rigorous process of reviewing winners for eligibility to receive cash prizes. Infrequently, we disqualify players for violating HQ's Terms of Service and Contest Rules. It may take some eligible winners up to 90 days to receive cash prizes, however, 99% of players have been able to cash out within 48 hours of winning a game and we have paid out a total of $6,252,634.58 USD to winners since launch."-HQ Trivia
Not paying high-profile winners promptly isn't a good look for HQ Trivia

Unfortunately, it doesn't appear that Jacob's issue is an isolated problem. HQ Trivia does have a history of paying winners late if they got paid at all. Just 18 months ago, HQ Trivia
drew 1.6 million contestants for a Sunday contest
offering $15,000 in prizes. Now, the game itself is a mere shell of what it once was. Even with an enigmatic host (Scott Rogowsky, who left in April), tons of free publicity and a strong buzz, HQ Trivia could not find a way to monetize the business. And we can't imagine that using a subscription model is going to work out any better for the company.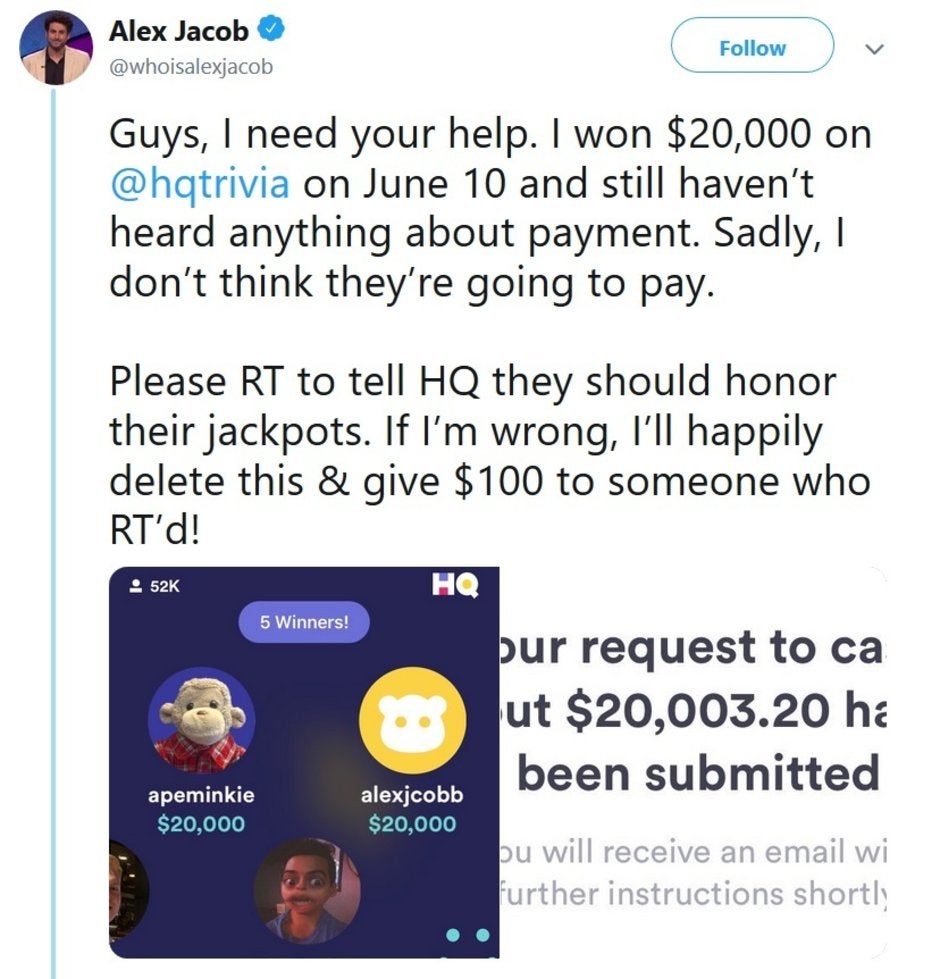 Jeopardy champ Jacob says he's been stiffed by HQ Trivia
The saga of HQ Trivia is one that many developers should study. You need to strike when everyone has the name of your app on their tongue. Instead, the company failed to keep the momentum going and took its popularity for granted. And when a $20,000 winner is complaining about not getting paid, the optics just don't look good for HQ Trivia.
We tried our hands at HQ Trivia early last year
and failed to get past the third round a number of times. Eventually, the small everyday prize amounts (winners have to split the grand prize of each contest) led us to uninstall the app and never look back. But every now and then, like at the end of a "season," HQ Trivia offers an outsized prize. On March 28th, 2018 the grand prize was $250,000 which was split among 12 winners (each of them received $20,833.33). Those payments went out a little more than a week after the game was played. And that is one of the reasons why Jacob fears getting stiffed by HQ Trivia.
If the company plans on staying in business, which it apparently does, not making prompt payments to winners is not the sort of assurance that the average Joe likes to see before deciding whether to invest the time, let alone the money, to play an online game promising cash prizes.