Flappy Bird may yet officially return to iOS and Android according to developer
22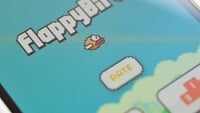 If you have been in a funk
not having access to your favorite Flappy Bird
game, you may be in luck. Dong Nguyen told
Rolling Stone Magazine
that he is thinking about bringing the app back to iOS and Android for all to enjoy again.
When he
took it down a month ago
, he did not get into too many details and that fed the rumor and innuendo machine to the point of nausea. Once the game was pulled, devices with it loaded were selling for thousands of dollars on online merchant and auction sites.
There were accusations flying about stolen art, or perhaps Nguyen was not hip with the idea of becoming such a sensation. After all, Hanoi, Vietnam is not the first place people think about when they think about game development. Nguyen was obviously not ready for the spot light so suddenly. He probably was not ready for the
$50,000 Flappy Bird
was making every day.
Whatever his reasons were for removing it
, we suspect the money it was making is certainly a motivator for the shy guy to consider bringing it back. Sure, such sudden success can be overwhelming, but when you are facing potential revenue of nearly $20 million per year, you have to consider that a gift you do not turn away. Especially when you bear in mind that the normal purchasing power parity in Vietnam is about $4,000 per year.
Nguyen did not give any reasons as to why he is thinking of bringing Flappy Birds back, but assuming he does, it will make the news.
via:
Pocket Lint