Flappy Bird is back, but only on the Amazon Appstore
11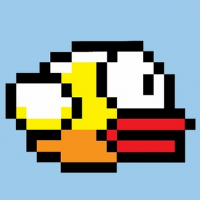 As promised by developer Dong Nguyen, Flappy Bird is back. For those who somehow missed out on the story, Nguyen came up with a simple, but highly addictive game, where you control Flappy Bird and try to maneuver the foul fowl through a series of pipes borrowed from Mario Brothers. The game became so popular, that it was
soon generating $50,000 a day in ad revenue
.
Surprisingly, at the peak of its popularity,
Nguyen pulled the game from all of the app stores
it was in, claiming that the game was getting too addictive. In addition, the developer was not ready for the amazing success of the game. He did promise that it would return,
with a message to users warning them that the game could be addictive
.
After months of game players going through Flappy Bird withdrawal, we are happy to report that the game is back, albeit with a few changes. Now titled Flappy Birds 'Family,' the game offers a two-player mode. New obstacles, like ghosts, stand in the way of Flappy Bird's successful journey.
Here is the bad news. For now at least, Flappy Birds 'Family' can be found only in the Amazon Appstore, and can only be used for the Amazon Fire TV set-top box. The game now supports supports Amazon's Fire TV remote, and its dedicated video game controller. Players will push a button instead of tapping on a touchscreen in order to control Flappy Bird.
This doesn't mean that Flappy Bird won't be eventually available again for iOS. Android, or Windows Phone. But this time around, it seems as though developer Nguyen wants to start small. Another possibility is that Amazon has worked out a deal with the developer, to make the game an exclusive through the Amazon Appstore for the Amazon Kindle Fire tablets, and the new
Amazon Fire Phone
.
source:
Amazon
via
Polygon
,
PocketLint