First S6 edge tempered glass screen protector gets hammered on video
28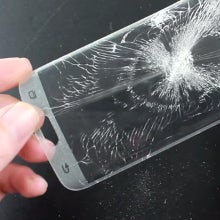 Given the $600+ price of today's flagships, a quality screen protector is one of the best investments you can make to keep the resale value of your precious. Tempered glass screen protectors are the best, of course, as they mimic the original touch feeling, and shatter when the phone is dropped, protecting the actual screen underneath.
Until now, the
Galaxy S6 edge
has been devoid of the tempered glass protection option, for the simple reason that it has unique
thermoformed
dual-edged display that slopes to the sides, so only
the more orthodox plastic protectors
have been available for it. There are no barriers for ingenuity, though, and what you can see below is arguably the first glass shield for the S6 edge.
Aptly named the Olixar Samsung Galaxy S6 Edge Tempered Glass Curved Screen Protector, this thing tacks onto the whole front of the phone, including the sloping screen edges. As you can see in the video below, it shatters under pressure like a typical glass protector, eventually preventing damage to the very expensive to replace S6 edge panel underneath. This Olixar panel is still a preproduction version, but should enter the sales portfolio pretty soon.