Facebook app for Windows Mobile 6.5 is outed
0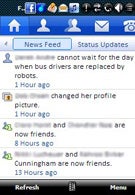 Like reaching into that new box of cereal and pulling out the prize, the guys at XDA-Developers were able to extract what looks like the Facebook app from the Windows Mobile 6.5 ROM. Early indications are that this will work on Windows Mobile 6.5, 6.1, 6 and even Windows Mobile Standard. It has been tested and does work on VGA,QVGA, WQVGA & WVGA, but all resolutions seem to be supported. Being an early beta version, it is bound to have some bugs, so keep that in mind.
As far as the app is concerned, there are 5 different tabs. The "Home" tab provides you with news feeds, updated pictures, and status updates. "Profile" is where you can see profiles of you and your friends, and more photos. The tab marked "Friend" is where you can get a graphical and text list of your pals and see what they are doing. Click on "Inbox" for your Notifications, and your In and Out boxes. Finally, with the "Phonebook", you can call any of your friends who have their numbers linked to Facebook. The new version will also allow you to "poke" friends, and leave comments.
Again, being V.14, there are some known bugs. It does take a while to cache info during the first loading, info you need to log in will not be saved, even if you press the button to save it, and friends ID will not show up if they are not one of your friends. If you want to check out the app,
click here
. Now all that is left is for you to share with us your experience with the app.
source:
xda-developers
via
Pocketnow