Facebook Messenger major release intros new customer service tools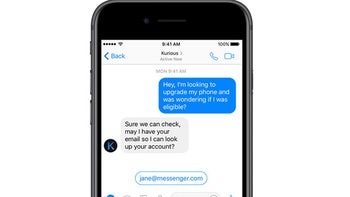 Facebook has just released a
new version of Messenger
that's supposed to make customer interactions easier and smoother. Messenger v2.3 comes with several new tools aimed at businesses such as enhanced Quick replies, customer chat plugin customization, new metrics, and new message tags.
Quick replies, a feature that's been added to Messenger since 2016, has been improved to offer a more guided experience for users as they interact with businesses bots. For example, whenever a business asks your info, you can now send a quick reply button that will automatically fill in your email or phone number that's associated with your Facebook profile.
Also, the latest version of Messenger comes with more chat plugin customization options, which is much easier to do thanks to a new tool created by Facebook. Businesses can now customize notifications, persistent menu and take advantage of the newly added
Internet Explorer support
.
Furthermore, two new metrics have been made available to Messenger business users to help them better understand how people are engaging with their business: open messaging conversations and new messaging conversations.
Finally, the updated version of Messenger includes new message tags to make it easier for businesses and devs to reply to questions issued by customers. There are a couple of more improvements introduced by
Facebook
, which you can read about at the source link below.