Essential Phone now comes with free 4K 360-degree camera ($179 value)
24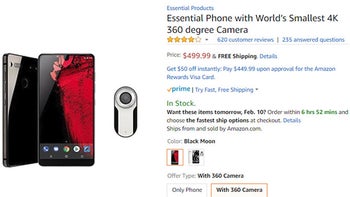 The
Essential Phone
is one of the cheapest flagships you can buy in the United States at the moment. Moreover, the handset is not even one year old and its price has already been permanently cut by $200.
When Essential launched its first smartphone, it went on sale for $700, but possibly due to low customer interest it
dropped the price down to just $500
. The Essential Phone is available for this price at various US retailers, but Essential's online store is selling it for $500 as well.
However, if you want a slightly better deal, you can have the Essential Phone along with a
360-degree camera
for $500 via Amazon. The bundle will let you save you the cost of the camera ($179), which comes for free.
If you're not that interested in getting a 4K 360-degree camera and rather buy the phone for a lower price, Amazon offers a $50 discount on the Essential Phone, which means you'll only be paying $450 to get it. Don't forget that you can read our
Essential Phone review
to learn more about the device.