Eric Schmidt says Google Glass is inappropriate in some places
8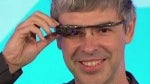 Google CEO Eric Schmidt has been tasting his own cooking. Not literally. He actually has been putting on Google Glass and walking around with it and he has discovered one interesting thing. Talking to the device and using its voice recognition system is "
the weirdest thing
." The executive also said that a
new etiquette
will have to be developed to deal with a device that can take videos and pictures on the sly while allowing the user to have information that only he can view. "
There are obviously places where Google Glasses are inappropriate
," Schmidt said.
Speaking of places where Google Glass doesn't belong, you might remember last month when the 5 Point Cafe, a little bar in Seattle, banned the device because it can take pictures without warning the subject. According to the Cafe's owner Dave Meinert, no one wants to find pictures of themselves online, hanging out at a seedy bar. Meinert has become a media darling in the region for his stand on the issue.
While the app market is open for Android phones and tablets, Schmidt said that Google has decided to pre-approve all apps for Google Glass. "It's so new, we decided to be more cautious," Schmidt said. "It's always easier to open it up more in the future."
The New York Times has already added its app for Google Glass
which requires Glass users to go to a special website and add the New York Times to their Google account.
Those developers who ordered Google Glass during last May's Google I/O event for $1,500,
have started receiving them
. Consumer sales are expected to start up in 2014.
source:
Reuters