New York Times releases its Google Glass app for the early adopters
1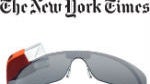 Google Glass has only just begun to roll out to its
early adopters
and development community, and there are still quite a lot of developers and early adopters who either pre-ordered at Google I/O last year, or are buying through the
#IfIHadGlass
campaign that haven't yet received their coveted device. But, that isn't stopping the
New York Times
from releasing its Glass app to the Explorer community.
Although Glass runs Android, and what the
NYT
has released is being called an "app", there's nothing really to install. Instead, Glass users have to visit a special website and connect the
NYT
to their Google account. The process is not unlike using Google or Facebook to sign in to a website. Users have to give permission for the
NYT
to access to basic Google account information, location, and of course permission to manage your Glass timeline.
That should get users all hooked up and ready to get breaking news from the
New York Times
. We saw a bit of the app
at SXSW
, as well as apps from Path and Evernote, so we wouldn't be surprised if more apps started rolling out to the early adopters.