"Ears" let you hear your Microsoft Surface speakers better
9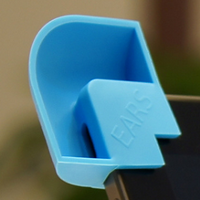 Having trouble hearing the sound on your Microsoft Surface tablet, even with the volume turned all the way up? A simple accessory called "Ears" can help solve that problem. "Ears" are small silicone pieces that fit over the top corners of your Surface slate. Covering the speaker, they redirect the sound to the front of the tablet, bringing a 10dB increase in the actual volume. It also makes the sound a lot clearer.
"Ears" are not electrical, they don't use battery power nor do they require wires. They won't fall off, even when the tablet is jarred, or turned upside down. And because they are small and lightweight, you can keep them anywhere.
The company behind the accessory is seeking $5500 in crowd-sourced funding, and so far has raised $3189 with 21 days left. You can pledge $10 to receive a pair of "Ears" for the
Microsoft Surface RT
/
Microsoft Surface 2
or for the
Microsoft Surface Pro
/
Microsoft Surface Pro 2
. The Kickstarter funding period ends April 28th.
For those with a Microsoft Surface tablet,"Ears" could be the perfect low tech solution to the volume problem that afflicts the speakers on Surface tablets. "Ears" come in a variety of colors to match the Microsoft Touch Covers, and you can see them in action by checking out the slideshow below.
source:
Kickstarter
via
MicrosoftNews
,
WPCentral