Dual camera setup and smart connector port appear on leaked Apple iPhone 7 Plus photo
47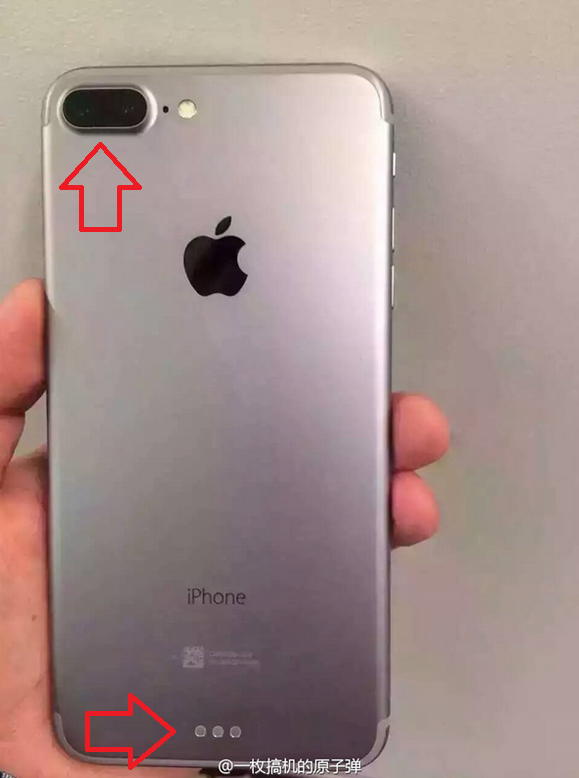 Arrows highlight the dual cameras and the smart connector port on the Apple iPhone 7 Plus
The latest leaked image of the
Apple iPhone 7 Plus
reveals that the device will sport a dual camera setup on the back. This comes a little less than two weeks after someone claiming to work at Foxconn posted about
the demise of the dual camera feature for the 2016 version of Apple's 5.5-inch phablet
. But that report was immediately followed by others reversing that rumor. Add to that the photograph of the phone leaked today, and it sure looks like there will be two camera lenses gracing the back of the iPhone 7 Plus.
So what will Apple use the second lens for? Unlike the
Huawei P9
, which uses its second lens to shoot in monochrome to improve focusing capabilities, the second lens on the iPhone 7 Plus will allow the user to employ optical zooming. According to the source of today's leak, both the Apple iPhone 7 Plus and the Apple iPhone 7 Pro will come equipped with a 5.5-inch display and feature a 16MP dual camera setup on the back. The report also suggests that both phablet sized iPhones will feature Apple's smart connector port. This is a magnetic system used on the
Apple iPad Pro
to easily connect accessories like the Smart Keyboard.
The rumor leaked today states that the only difference between the Apple iPhone 7 Plus and Apple iPhone 7 Pro will be the much higher specs found on the latter. In addition to the two different versions of the 5.5-inch Apple iPhone 7 (Plus and Pro), Chinese phone repair company Rock Fix, which leaked a picture of the iPhone 7's rear casing yesterday, says that there will be two variants of the
Apple iPhone 7;
one more affordable model will replace the
Apple iPhone 6
in Apple's lineup.
Thjanks for the tip!
source:
Playfuldroid
Recommended Stories