Dr. Panda's Ice Cream Truck is this week's free App Store game
1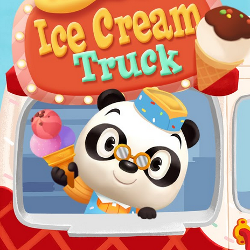 This week's free App Store app of the week is a delicious sounding game,
Dr. Panda's Ice Cream Truck
. With the game, you can create your own flavors and add toppings like chocolate syrup, cookies, candies and decorations. There are hundreds of combinations. Different animals will demand your creations and each one will have its own unique reaction to your frozen treat.
A recent update to version 1.33 added the following new features to the game:
4 new flavors of ice cream to blend and taste, including the summer favorite: watermelon!
6 new fillings to mix, including banana, walnuts, cookies and more!
10 more delicious ways to top off your ice cream. Sprinkles, sugar and sauces galore!
4 flags added to decorate your dessert: Australia, Belgium, Mexico, and Russia.
Fixed a freezing issue that could occur after making a new flavor
While no one wants to see any bugs on an app they download, how amazing was it that there was a freezing issue affecting a game about ice cream! Anyway, that problem has been resolved which means that you won't travel down a Rocky Road while playing.
Now that we got that out of our system, click on the appropriate sourcelink to snag Dr. Panda's Ice Cream Truck for free from the App Store. Android players can also download the game, although it will cost them $1.99 from the Google Play Store.