Did you know that phones with optical zoom cameras are nothing new? Here's one from 2004
12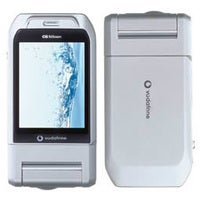 You've seen the
Samsung Galaxy K Zoom
, now, haven't you? Of course you have – a phone as unusual as this can't go unnoticed. It is Samsung's
ultimate cameraphone
, packing all the bells and whistles one would expect out of a standalone camera, not a smartphone. You know, goodies like optical image stabilization, a xenon flash, and even a 10x optical zoom lens. Yet the Samsung Galaxy K Zoom is far from the first phone to offer a camera with optical zoom. Its predecessor, last year's
Samsung Galaxy S4 Zoom
, wasn't either.
In 2004, Vodafone Japan released the Sharp V602SH flip phone. It was the typical top-of-the-line handset for the time, featuring a large, high-res display, relatively fast data connectivity, video games, a multimedia player, as well as expandable storage. Its highlight, however, was its camera. The snapper offered 2 megapixels of resolution (an image size of 1600 by 1200 pixels) and 2x optical zoom. Remember, this happened 10 years ago, so the latter feature must have been really impressive to see on a phone back then.
Then the
Nokia N93
– a phone that many have fond memories of – came out in 2006. It was nothing short of a multimedia marvel, and its 3.15MP camera was the prime weapon in its arsenal. Thanks to the handset's unusual form factor, it was possible to fit a 3X optical zoom lens in there. Again, quite impressive for a phone at that time.
And here we have the Altek Leo. If you can't remember what phone we're talking about, don't be embarrassed as the handset was practically unheard of outside of Asia. This Android-powered smartphone came with a 14MP CCD-based camera, both xenon and LED lights, and 3x optical zoom. Here's our
preview of the Altek Leo
, dating from March 2011.