Despite comments from Verizon CEO McAdam, analysts don't see Big Red buying Disney or CBS
5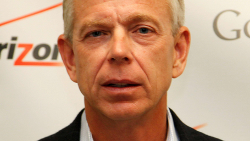 Ready to play a new game? It's called "Who is going to merge with Verizon?" Here's how you play. Take the following sentence, "Verizon is going to merge with _____________. Fill in the blank with the name of a well known company. Use your common sense and stick to wireless content providers and distributors, large media firms and communications companies. Be smart. Verizon isn't going to buy Dairy Queen. Some of the names that Wall Street has bandied about recently include Disney, Comcast, Charter and CBS.
Last week, Verizon announced that it
lost 289,000 postpaid phone subscribers during the first quarter
. While things turned around after Verizon Unlimited was launched in February, most analysts were not impressed. For example, Craig Moffett from MoffettNathanson said that "Verizon missed. On almost every metric." The analyst added that the poor report could put some pressure on Big Red to top their previous purchases of AOL and Yahoo.
Even before the earnings release, Verizon fanned the acquisition fires when CEO Lowell McAdam said that his company would be open to a merger with Disney, Comcast or CBS. Moffet says that despite McAdam's comments, Verizon isn't really keen on chasing CBS or Disney, and purchasing Comcast is probably out as well.
"Verizon has become something close to a pure-play wireless operator, and the wireless business is not a happy place. Today's Verizon results were very poor, so it isn't hard to imagine that the pressure on Verizon to do a deal—any deal—is very real...But for all that, we still can't help but to be skeptical about all the speculation. We've already weighed in on the possibility of a Charter deal (we don't think Verizon could afford it even if they wanted to). We don't see a Comcast deal as in the cards either … They've said they don't love the idea of a Disney or CBS deal, either. Oh, and we don't think they have the balance sheet for a giant non-cash-producing spectrum deal with Dish."-Craig Moffett, analyst, MoffettNathanson
Verizon still needs to
digest its $4.48 billion purchase of Yahoo
and
2015's $4.4 billion acquisition of AOL
. Earlier this month, the nation's largest carrier
introduced a new division called Oath
, which will combine assets from the two companies. Oath will consist of 20 brands with 1 billion customers, and will launch this summer.
Wells Fargo's Jennifer Fritzsch sees Verizon working on getting its recent acquisitions to mesh together rather than spending billions on adding another company to the mix. While she says that talk of Verizon spending billions on a new M&A purchase is "overblown," if the wireless business doesn't pick up soon, all bets are off.
source:
FierceWireless