Verizon combines Yahoo and AOL to form a new division called Oath (UPDATE)
19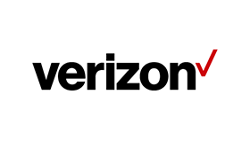 When Verizon closes on its $4.8 billion purchase of Yahoo
some time this quarter, the nation's largest carrier plans on combining Yahoo with its AOL business to form a new division called Oath. AOL CEO Tim Armstrong disseminated a tweet on Monday in which he wrote all about the financial strength of Oath. According to Armstrong, the combined company will have 20 brands serving one billion consumers. Armstrong characterized Oath as being unstoppable, and hinted that the company would debut in the Summer.
Armstrong is expected to be given the task of running Oath, and is said to be in the middle of talks with Yahoo executives to determine who will stay, and who will be asked to leave. While it isn't clear if the Yahoo name is going to live on, the company's internet assets will be run by Verizon's AOL division. An AOL spokeswoman said, "In the summer of 2017, you can bet we will be launching one of the most disruptive brand companies in digital." Oath will be soon be the subject of an expensive and wide ranging ad campaign introducing the new brand.
UPDATE:
According to Yahoo Finance (and who would be in a better position to know?), the Yahoo name is not going away and Yahoo will be one of the brands under the Oath umbrella.
Verizon purchased AOL in May 2015 for $4.4 billion
, picking up some prime internet properties like
Engadget
,
TechCrunch
and
The Huffington Post
. Verizon made the AOL transaction to increase its presence in mobile content and mobile advertising, and the Yahoo purchase builds on that even more.
The parts of Yahoo that Verizon did not buy include a 15% stake in Chinese retail titan Alibaba, a portion of Yahoo Japan and a joint venture with SoftBank. These properties together
will form a new company called Altaba
. Yahoo CEO Marissa Mayer will not be joining Altaba or Oath, and thus it appears that her time with Yahoo has expired. Her reign as CEO ended with Yahoo getting hacked twice,
negatively affecting one billion Yahoo subscribers
.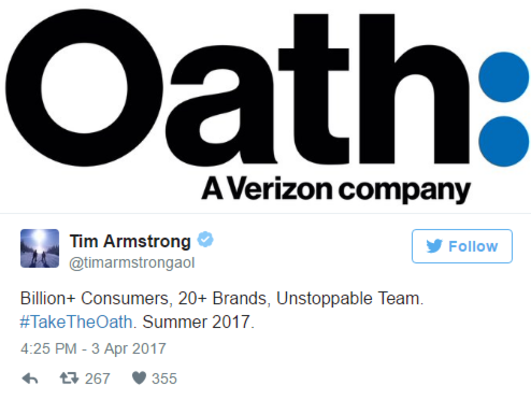 AOL and Yahoo are combining to become Oath
source:
BusinessInsider
,
YahooFinance