Data shows that Samsung led Amazon and Best Buy in wearable sales during Q4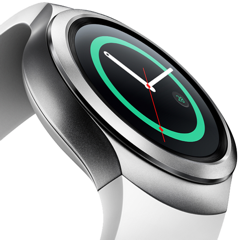 According to data put together by JeeQ, Fitbit and Samsung dominated smartwatch/
fitness tracker
sales at Best Buy during the fourth quarter. The large-sized Fitbit Surge fitness watch with heart rate monitor in black was the top selling wearable from October through December at the big box retailer. The
Samsung Gear
S2 in black was next, followed by the Samsung Gear Fit in black.
The small-sized Fitbit Surge in black was fourth followed by the Asus Zenwatch 2 in Gunmetal/Brown. Among other well known wearables, the 42mm Motorola Moto 360 in black finished ninth with the 46mm model in silver right behind it. The Microsoft Band in black was 12th. During the fourth quarter, Samsung had the largest share at Best Buy among wearable manufacturers at 39.01%. Fitbit was next with a 17.91% slice of the pie.
At Amazon, the A8Power U8 smartwatch was the beneficiary of a huge discount (89%), which propelled it to the top of the online retailer's wearables sales chart for Q4. The Prime Bluetooth U8 wrist watch was second followed by the 42mm
Apple Watch
Sport in Space Gray. The Motorola Moto 360 in black leather, and the Samsung Gear S2 finished fourth and fifth, respectively.
FEATURED VIDEO
At Amazon during the last quarter of the year, Samsung had the largest share of wearable sales at 23.80%. Apple was next with the Apple Watch accounting for 11.85% of smartwatch/fitness tracker sales.
source: JeeQ