Dare To Live Windows Phone starts on London's West End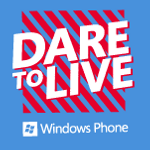 First we saw
#SmokedByWindowsPhone
. Then we saw
BlownAwayByNokia
. Now, Microsoft and Nokia have teamed up to bring
Dare To Live Windows Phone
to the streets of London. Like the other two events, Dare To Live Windows Phone involves a contest between a Windows Phone and a smartphone running a competing platform. A task is selected and the first phone to complete it wins. If the challenger beats the Windows Phone, he receives £20, which is approximately $32.
If a challenger loses, he is required to take on a dare offered up by the Windows Phone team,
like tightrope walking
. Besides a heaping dose of humiliation, the losers also receive a "DARED" Windows Phone shirt. FYI, the Windows Phone model used in the challenge was a white Nokia Lumia 800. If you're in the U.K. and want to participate in the challenge, check the sourcelink for the schedule.
source:
WindowsPhone
via
WPCentral