Damian Dinning tweets his response to criticism of 8MP PureView camera on Nokia Lumia 920
41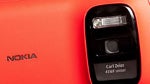 While no one really expected the PureView camera on the back of the rumored
Nokia Lumia 920
to be 41MP like on the
Nokia 808 PureView
model, there was speculation that the
Windows Phone 8 powered device would have a 21MP shooter on back
. But the way this rumor got started wasn't based on any particularly outstanding leak. You see, the code name for the device, "Phi" is the 21st letter of the Greek alphabet. Also, a teaser video for the device
ran exactly 21 seconds
. Thus, a 21MP camera should be on the phone. After all, how can you refute logic like that?
Back in July, after the 41MP Nokia 808 PureView was released, a Nokia VP by the name of Richard Kerris said that a
Nokia Lumia PureView model would be coming shortly
. The obvious thought was to assume that the same 41MP was going to be on the new Lumia device.

Dinning sets the record straight on an 8MP PureView shooter
Alas, as we told you on Monday,
the leaked Nokia Lumia 920 is rumored to come with an 8MP shooter on back
and is
still expected to be marketed as a PureView device
. Even though this is all conjecture as the phone has not been announced by Nokia, a camera expert for the Finnish based handset manufacturer, Damian Dinning, send out a number of tweets explaining how an 8MP camera can still be classified as a PureView model. Dinning made sure not to give any secrets away because after all, we are talking about a rumored camera on a rumored phone.
Some of the tweets by Dinning pointed out that PureView is
not a single spec or feature
and is about using "
optics, pixels and image processing in new and different ways to allow you to do things you otherwise cannot
." He emphasized that PureView is not about the number of pixels, but what you do with them. He also adds that he knows of no 21MP camera which lends more credence to the speculation that the Nokia Lumia 920 will have the aforementioned 8MP shooter on back.
You can check out all the comments from Dinning by clicking on the sourcelink below.
source:
DamianDinning
via
SlashGear