8 megapixel PureView camera rumored for the Nokia Lumia 920
55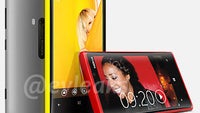 If the following rumor turns out to be on the right track, quite a few Nokia fans will be pretty underwhelmed. That is because although the leaked
Nokia Lumia 920
is expected to be marketed as a PureView device, the actual megapixel count of its image sensor will allegedly be far lower than expected.
Another Nokia Lumia 920 feature that the tipster mentions is wireless charging, enabled by a conductive strip embedded in the back plate of the smartphone. What's more is that the handset will comply with the Qi standard for wireless charging, meaning that it will work with Qi-supporting charging docks. Last but not least, it is claimed that 32GB of on-board storage will be available, alongside a gig of RAM, a dual-core 1.5GHz processor, and a 4.5-inch display with HD resolution.
The Lumia 920 is expected to be announced at the press event that Nokia is hosting on September 5, and that is when we'll find out whether any of the information above holds water. Rest assured that we will be keeping a close eye on the event.