PureView coming to Lumia "Very Soon" says Nokia VP; Verizon and Sprint to soon have Lumia models
43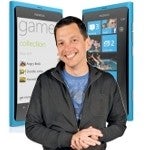 Almost immediately after Nokia introduced the Nokia 808 PureView and its 41MP camera, a cry arose from Nokia users in the U.S.
for the technology to be made available on the Nokia Lumia line of smartphones
. After all, the Symbian OS used in the Nokia 808 PureView is not exactly a favorite in the States. While the device is available for purchase today at Amazon for $699, a Windows Phone powered version would probably be more warmly received. And such a model would be eligible for carrier subsidies as there would be no question that at least one Stateside carrier would pick it up.
For those waiting for a Nokia Lumia model with the PureView technology, we have good news. According to Nokia's Richard Kerris, VP of Worldwide Developer Relations, a Nokia Lumia model with PureView will be coming "
very soon
." Despite the 41MP camera on the Nokia 808 PureView, the rest of the phone is not exactly stuffed with high-end specs. The display, for one thing, is limited by the OS and
offers a poor pixel density of 184ppi
. The thought is that a Windows Phone powered Nokia Lumia device with PureView would allow Nokia to offer a phone with high-end specs matching those belonging to the camera and offer a display that would show off the abilities of the PureView technology.
seek a patent for the concept
. With
it's stock at a 15 year low and falling
, the executive thinks
Nokia can innovate its way out of the problems it has
and hinted that new products would be coming this fall. Nokia's patent portfolio brings in nearly $1 billion a year and the company has over 10,000 active patents that Kerris says Nokia will aggressively defend (uh oh). By Spring, Kerris says that "
people will be climbing over themselves
" to get the new Nokia models. Earlier Sunday, we told you about a
Nokia Lumia 1001 that showed up on Nokia's RDA
.
The Nokia veep was interviewed by Neowin and said that for those mobile phone users who want to experience the Nokia Lumia line without changing carriers, "
very soon
"
there will be Lumia models available for Verizon and Sprint customers.
In the U.S., the Nokia Lumia 710 is available on T-Mobile with the Nokia Lumia 900 on AT&T. Last December, there was word that
AT&T and Verizon were both testing an LTE enabled Nokia Lumia 800
although nothing ever came from it. Kerris said that the current Lumia models
will receive updates all the way to Windows Phone 7.8
, keeping the product line fresh.
source:
Neowin
via
WMPoweruser