Cygnett Form Samsung Galaxy S4 case hands-on
4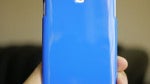 We've gone through pretty much Cygnett's entire case lineup for the
Samsung Galaxy S4
, but when it comes to the most basic of basic cases, it's none other than the
Cygnett Form case series
. Certainly far from being the most stylish thing, the Form case will appease those looking for any sort of case for the divine smartphone.
With this specific case series, its most noteworthy aspect is the
high gloss finish
, which looks nice when it's clean and all, but easily becomes a
magnet for nasty baddies
such as fingerprints and smudges. Heck, you'll need a solid polish after each time it's held because it can get a little bit out of hand. Regardless of that, the Cygnett Form Samsung Galaxy S4 case does offer that minimal protection against scratches, but it's hardly unlikely to put up any sort of fight against extreme drops. And yes folks, it still
retains the smartphone's slim waistline
, as it barely adds any heft to it.
Available in 5 colors right now through Cygnett's online portal, the
$19.99
cost attached to the Form case doesn't seem too bad, even more when they're nice to throw in a screen protector. Then again, for a basic case, this one might seem bloated when knowing there are other cheapo cases out there selling for far less. Decisions people, decisions.
More Samsung Galaxy S4 cases to check out!
source:
Cygnett