Couch commerce surges during the holiday period, McAfee says beware of mobile payments security
0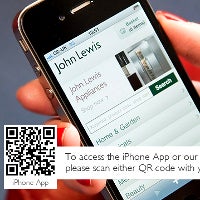 We already know that last year recorded
the highest level of "couch commerce"
over the holiday period - browsing for and purchasing items and services via mobile devices. The bulk of
mobile shopping in the US is done via iOS devices
, such as the iPhone and iPad, for various reasons.
Now some retailers are confirming the research analysts reports, saying that mobile is increasingly becoming an important channel in their marketing strategy. The big British clothing retailer John Lewis has marked a 120% increase in visits of its Christmas clearance sale from mobile devices, compared to 2010, and 46% increase in actual sales.
Almost all major retailers have mobile apps now, where they list special promotions, and provide
barcode scanning
plus one-tap navigation to the nearest store via your mobile device. Amazon took it even further, and allowed you to snap a picture of an item in a competitor's brick-and-mortar store, and then use the Amazon app to do price comparison on the online retailer's website, which caused a huge outcry by the affected.
Mobile security company McAfee, however, warns
in its new report
, that mobile banking and payments are increasingly becoming targets for "spyware kits" like Zeus and SpyEye, whose clones are designed to scour for the money in your account during a transaction. Granted, it's the job of software security companies to drum up paranoia about your online security, but mobile is growing in such leaps and bounds, that they might pretty soon just be proven prudent for their warnings.