Corning explains why glass breaks and why Gorilla Glass 3 is not like most other glass
28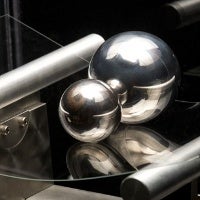 Corning has recently
unveiled its brand new Gorilla Glass 3
toughened glass technology and while the second generation made the original thinner at the same level of resistance, the third generation builds upon the quality adding three times better scratch resistance.
To back up those claims, Corning has come up with two demonstration videos making crystal clear the effects of added pressure on regular types of glass, Gorilla Glass 2 and the newest third generation.
The effect? Regular untreated and even strengthened soda lime can't withstand much pressure. At 1.12lb/0.5kg of pressure Gorilla Glass 2 starts to scratch, while the newest
Gorilla Glass 3 withstands pressure
of as much as 1.8lb/0.8kg.
Not just that, Corning is also explaining why glass breaks in the first place, so if you've missed that you should definitely note that little scratches like those from your keys on your smartphone when both are in your pockets accumulate, and once this damage builds up under some tension the glass would crack. So just be careful.
source: Corning via
Android Authority