Code in latest Windows 10 SDK references ARM flavored folding Surface Phone?
9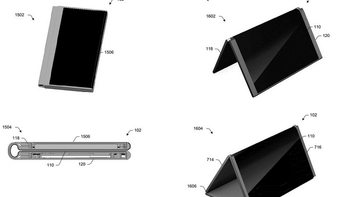 Apparently hidden away inside the latest Windows 10 SDK (Windows 10 17672 SDK) is code that mentions the Andromeda OS. Windows tipster WalkingCat, who previously discovered a list of phone-only apps hidden away in the Windows Store that are linked to the Andromeda OS, discovered the code. There are some tantalizing clues; it appears that Andromeda OS will support both ARM and X86 CPUs, although the actual device will be powered by ARM flavored processors.
According to the code, the Andromeda OS is listed internally as "Factory OS Andromeda" and the code even mentions the actual device. Some of the patents we passed along were hinge-related and it appears that much work has been done on that part of the product. Earlier rumors mentioned magnets that would appear on both sides of the unit's spine to help it fold. The foldable Surface device will reportedly be able to fold into various positions named
tablet mode
,
tent mode
,
laptop mode
, and
folded mode
. A special note taking app will allow users to write on the two screens as though he/she were jotting down information into a regular paper notebook.
The code found on the SDK also contains references to WindowsCoreOS, which turns Windows 10 into a modular platform, and Polaris. The latter is a version of C-Shell that puts a desktop shell on top of WindowsCoreOS.
Where there is smoke, there's fire. And it seems that the clues supporting a foldable Surface device are red hot. The big question is whether this will indeed be the Surface Phone.
Recommended Stories