Cleaning up the UI adds up to an improved UX on the Samsung Galaxy S6 and Samsung Galaxy S6 edge
11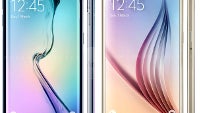 No one likes having the UI on their phone weighed down by bloatware. So this morning, Samsung took to its official blog to brag about how it has improved the user experience on the
Samsung Galaxy S6
and
Samsung Galaxy S6 edge
by "
removing cumbersome bloatware
." Of course, there is more to it than that. By replacing icons with what Sammy calls "clear text," users no longer have to scroll through long menus.
Customization is a big word (13 letters, in fact), but Samsung lives up to it by allowing Galaxy S6 and Galaxy S6 edge owners to personalize app icons, including those for native apps like Messages and S Planner. Samsung has opened up the API to allow third parties to develop and design their own themes and upload them to the Theme Store.
Samsung says that it has removed unnecessary pop-ups and notifications, and to help those with either handset get to the information they are looking for faster, "
the powerful processors eliminate lag in responsiveness and every motion is easily detected on the touch screen
." Samsung also is employing color coding to help users quickly categorize what apps they are looking at. Green means a phone app, video apps are purple, and orange is for apps related to your contacts list.
Color coding is used for additional customization on the Galaxy S6 edge. With
People Edge,
you can assign a color to your five favorite contacts so that when one of the five calls or texts you, that color appears on the extra "edge" on the sides of the phone. And if you need to call or text one of your contacts, it can be accomplished in just two steps starting by swiping on a name. Swiping back and forth on the "edge" will bring up a ticker offering news, weather and notifications.
Samsung says that it has improved the user experience on both the Samsung Galaxy S6 and Galaxy S6 edge, and it would certainly seem that this is the case. Trashing the bloatware alone goes along way toward making the UI lighter. Check out some images of the changes that Samsung has made by clicking on the slideshow below.
source:
Samsung
via
AndroidAuthority