Check out this fun new ad for Windows Phone...from India
6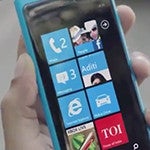 Below you can watch a lovely advertisement for Windows Phone. It's a textbook example of how to show off a single feature (Pining a Live Tile to see someone's social media updates) in a way that shows off how great the overall product is (those Live Tiles are useful!). The ad also does a good job of targeting the young-adult market, dealing with commonplace issues (relationships) with humor and a light heart.
The ad was made in India, and is a stark contrast to the "all your bases are belong to us" rhetoric we see in North America, where the "
Smoked by Windows
" campaign is the headliner. With the
imminent launch
of the Nokia Lumia 900 in the States, backed by a gigantic
$200,000,000 marketing push
, let's hope we see at least a few ads reminiscent of this one in the coming months. Sticking it to the competition is fun and all (see:
Samsung
,
Galaxy Note
), but when you are introducing a new platform to people we think ads should also inform viewers of specific positives about your product.
That way you might convince consumers to pick your platform when they part with their hard-earned money.
source:
YouTube
via
WMPoweruser