Our favorite barista returns in another new Samsung ad
22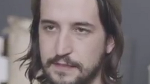 Earlier this morning we showed you the
latest ad from Samsung
and we were a bit disappointed. The
edge seemed to be missing
from that commercial, but the Korean manufacturer might have recaptured some of the magic in the second new spot to be released on Monday. And this time, our favorite Apple iPhone lugging barista is back.
Unlike the other ads, this time the action starts away from the line to buy the next Apple iPhone. This ad opens in a coffee shop where our old friend the barista works. He happens to be serving a customer with a
Samsung Galaxy S II
(natch) who says, "Latte art. I see you're still creative."
ZING!
A couple of the barista's pals come into the shop and the talk turns to camping and quickly the Samsung Galaxy S II owner uses 4G speeds to find a camping site.
ZING!
Of course, the rub there is that the
Apple iPhone does not have a 4G model
while the Samsung phone does offer 4G connectivity. Oh yeah, the camping out that is being referred to is actually waiting on line for the next iPhone. "Urban Camping," it is called and the barista adds, "This is our generation's Woodstock." And so it is.
source:
YouTube