As expected, Microsoft makes "Smoked by Windows Phone" an ad campaign
17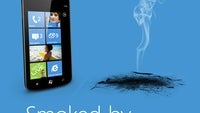 We knew it would happen when we first saw the "Smoked by Windows Phone" booth at
CES last month
, and that suspicion was confirmed just a
couple days ago
. Now, Microsoft has finally launched its ad campaign based on the (questionable) challenge that Microsoft posed to smartphone users.
We have had our questions about the legitimacy of the challenge and our suspicions seem to be confirmed in the ad videos that Microsoft has posted on Facebook. No doubt, Windows Phone is quite fast for routine tasks, but given that Microsoft's professional is obviously going up against people who don't really know how to use their own phones, it seems a bit rigged.
Still, it's really nice to see a marketing campaign from Microsoft that highlights positives of its own devices rather than just the supposed faults of the competition.
Recommended Stories