Changes to Google's "help" page more accurately reflect how it uses your location data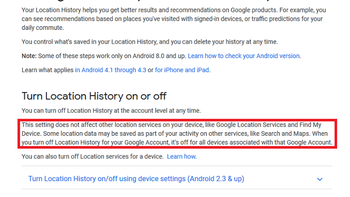 Just a few days ago, we told you that
Google continues to track users' location data even when Location History is disabled
on Android and iOS devices. It now appears that in the aftermath of that story, Google has made a change to its "help" page that more accurately reflects how location data works. Previously, the page stated that "with Location History off, the places you go are no longer stored." The new wording reads, "This setting does not affect other location services on your device" and reveals that "some location data may be saved as part of your activity on other services, like Search and Maps" (see image at the top of this article).
According to the Associated Press, Google made the change yesterday around the middle of the day. In a statement, Google confirmed that it had updated the wording on its page, and said that it did so to make the language about Location History more consistent across its platforms and help centers.
"We have been updating the explanatory language about Location History to make it more consistent and clear across our platforms and help centers."-Google
As we pointed out in our article, users can stop the tracking by disabling both "Location History" and "Web & App Activity." Location History already stored inside your phone can be deleted by removing each individual entry found on the "My Activity" page.