Certain Samsung devices have copy/paste flaw that could cause permanent problems?
27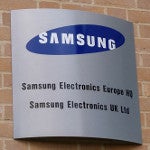 .
The application being used then crashes and the device becomes unusable until a factory reset is performed. Rooted users can clear the contents of the clipboard/data if a factory reset is unacceptable. Since the directory in the error message
does not exist
on stock Android, this is a problem coming from Samsung.
As of late October, the flaw was found on the following Samsung devices:
Samsung Galaxy Note
,
Samsung Galaxy S II
and variants,
Samsung Galaxy S III
and variants,
Samsung GALAXY Tab 10.1
,
Samsung Galaxy Tab 7.7
and the
Samsung Galaxy Tab 7.0 Plus
. The thread remains open which means that the
problem is unresolved
although Samsung has known about it since last and the October. Click on the video below to see the flaw in action.
Has any one out there run into this problem with their Samsung device? Let us know by dropping a comment in the box below.
source:
SamsungDevelopersForum
via
Guardian