Buttery smooth: Sharp phone with 120 Hz display compared to Galaxy S8
27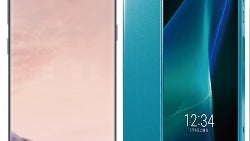 This year, we saw the first mobile devices with 120 Hz display refresh rates — they were the
Apple iPad Pro 10.5
and
iPad Pro 12.9
. That's double the usual 60 Hz refresh rate that's out on most devices. What does it translate to? Smoother animations and a perception of a faster, more accurate response to the user's touch inputs.
But what if we told you that there are phones out there that have 120 Hz displays? Yup, a couple of Sharp's Aquos models have the high refresh rate. But, as you are probably guessing, they are only sold in Japan, as is often the case with Sharp's high-tech handsets.
How big is the difference in smoothness in said Sharp phones and the current top-tier phones that we actually have access to? Well, a kind Reddit user took it upon themselves to record a 240 FPS slow-mo clip of the
Sharp Aquos Zeta
vs the
Samsung Galaxy S8
. You can see how drastic the difference is in the GIF below.
This is obviously the future of phone displays. The Samsung Galaxy Note line, for example, will benefit greatly from smoother and more responsive animations for its S Pen stylus usage. But even if you don't have a proprietary pen, any phone would be improved with some extra sleekness to its interactions.
The only question that remains is — when will we see 120 Hz displays on phones that are sold internationally?
Recommended Stories