Bloomberg reports Verizon branded iPhone by January
This article contains unofficial information.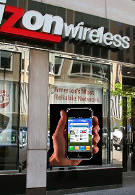 Why, didn't Verizon come out the other day as we
reported
, and say it was concentrating on all things DROID and had no interest in the iPhone? This time, a well-respected news agency, Bloomberg, says that according to two people familiar with the plans, this January the nation's largest carrier will be offering the iPhone. UBS AG analyst John Hodulik said that Apple would greatly benefit from being able to offer the phone to other carriers. "The fact is, Apple is going to dramatically increase thenumber of devices it sells in the U.S. when exclusivity at AT&Tends," said Hodulik, "It's hard to ignore the quality issuesthat AT&T has faced." A Barclay's analyst says that a Q1 release of the iPhone for Verizon would bring 2011 sales of the device to at least 15 million units from a previous estimate of 11 million phones. Verizon Wireless CEO Lowell McAdam says that the carrier will be introducing some phones that will run on Verizon's LTE 4g network at the Consumer Electronics Show in January. Will a LTE iPhone be amongst them? Despite denials by Apple, Verizon and AT&T, rumors of a Verizon branded iPhone continue to leak out-enough to make even the most cynical cellphone fan wonder if there is any truth to the stories.
Apple iPhone 4 Specifications
source:
Bloomberg