Bloomberg: Apple lining up to acquire Nokia's HERE maps suite
55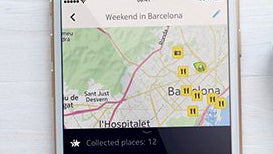 Today might be one sad day for Android users grown accustomed to the comfort of traveling with
Nokia's HERE offline maps suite
in their pocket. Nokia is
reportedly spinning off the HERE division
, and will be selling it for about $3.2 billion. This much we already knew, but now Bloomberg is reporting which companies have lined up to buy it, and the list reads like the who-is-who of Silicon Valley, and even car companies are in the queue.
The biggest news in the Bloomberg report is that Apple is among the HERE maps bidders, but so are Facebook, Amazon, Alibaba, and even a consortium of BMW, VW and Mercedes, as well as Harmon the audio company, or Sirius XM, the satellite radio folks. Given Apple's $180 billion cash pile, and its
troubled Apple Maps undertaking
, acquiring the shovel-ready solution of HERE Maps will be a steal at $3 billion, as that's the only current competition of Google Maps that is worth its salt, and then some. HERE Maps is already available on iOS as a standalone app, and if Apple gets it, it might deeply integrate the platform within iOS itself.
Well, the free offline voice-guided navigation in most countries worldwide might go to Apple, but this could force Google to finally stop withholding the true offline functionality of its own Maps solution for ad revenue purposes. What do you think about Apple potentially acquiring Nokia's HERE Maps suite?