Nokia wants to sell Here Maps (and its entire maps business)
88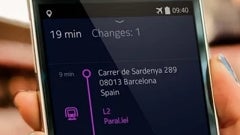 One year after selling its mobile phone division to Microsoft, Nokia is now reportedly pondering the sale of its maps business, which currently develops
Here Maps
. According to Bloomberg, the Finnish company might sell the maps division in order to focus on its wireless network business.
Bloomberg has it that Nokia already contacted potential buyers, like Uber and unspecified German carmakers (BMW, Mercedes-Benz, or Volkswagen Group might be included here).
Right now, Nokia's maps business is evaluated at $2.1 billion, considerably less than the $8.1 billion that the company paid in 2008 to purchase Chicago-based Navteq in order to start the business.
As you may know, Here Maps are pre-installed on Microsoft's Lumia Windows Phone handsets. A Here Maps application for Android was released last year, and more than
2.5 million users
have already downloaded it. As of March, Here Maps is
also available on iOS
.
Blooomberg reports that, according to people familiar with the matter, if Nokia doesn't "get a price it deems sufficient", it will ultimately not sell its maps business (which, besides being important to Microsoft, provides data to companies like Amazon and Yahoo, as well as to "four out of five car navigation systems").
Do you use Here Maps? If yes, do you think it's a good idea for Nokia to sell the entire maps business?
source:
Bloomberg
Recommended Stories