Apple Maps keeps sending skiers to granny's house
45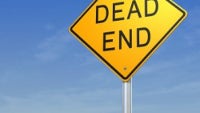 For the last 18 months, Apple Maps has been sending iPhone wielding skiers to a grandmother's house in rural Pennsylvania, instead of the ski lodge that they were seeking directions for. Apple Maps directs skiers looking for Roundtop Mountain to go through Beaver Creek Road. The only problem is that this happens to be a dead end.
Judy Saltsburg, who lives at the end of the dead end, told television station WGAL that several times a day, she has to come out of her house and explain to travelers that they received incorrect information. She said that three carloads of skiers had just driven up to her house in the last 24 hours. Saltsburg says that all of those who get lost argue that "
My app says this is the way to Roundtop
."
Despite signs clearly marking the road as a Dead End, and some homemade signs from Saltsburg, the cars continue to come to her home, directed there by Apple Maps. The granny has also tried to call Apple, but so far, nothing has changed.
source:
Yahoo