BlackBerry turns to the courts to stop executive from defecting to Apple
10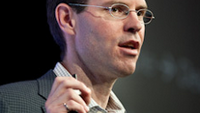 Last December, BlackBerry senior VP of software Sebastien Marineau-Mes gave the Canadian manufacturer two months notice of his decision to leave Waterloo for Cupertino. The executive had decided to leave BlackBerry for Apple, and who could blame him? Apple was offering him the position of VP of Core OS at a company that still has a bright future ahead of it. BlackBerry, on the other hand, might have already seen its best days.
But before Marineau-Mes could sit at his new desk at Apple, BlackBerry sued to prevent him from going anywhere. As it turns out, under the terms of a contract signed by Marineau-Mes for a promotion, he had to give BlackBerry six months notice before leaving. And sure enough, the Ontario Superior Court of Justice saw it the same way, which means that the executive will have to wait until June 23rd before receiving his new business cards.
We're not sure why BlackBerry would still want this guy sitting around for another three months. After all, he is leaving for a rival company, he surely has to be bitter about the whole thing, and he probably can't wait to leave. We get the whole idea of John Chen showing off BlackBerry's newly found determination and strength, but why would you want someone like that hanging around your HQ everyday when his mind is California dreaming?
Perhaps Chen is hoping that Marineau-Mes gets an
eyeful of the BlackBerry Windermere
and decides to stay.

Ontario Superior Court of Justice rules in BlackBerry's favor
source:
CanLII
,
iMore
via
BGR