BlackBerry sets up division to house high-growth assets
13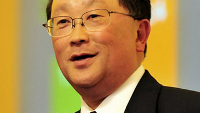 BlackBerry has proven itself to be much more than just a handset manufacturing company. As a result, on Monday the company announced the creation of a new unit that will hold some of the company's high growth assets. That would include the QNX embedded software, apps related to cryptography, and its Project ION platform for connecting devices. The BlackBerry Technology Solutions unit will include 44,000 patents and the Paratek antenna company.
Turnaround expert John Chen has been at the helm of the struggling company since November, and has made some changes that have consumers talking about the company.
Chen opened up the BBM messaging app
to Android, iOS and Windows Phone users. He also took pressure off the company to design entry-level models for the emerging markets,
thanks to a five-year deal made with Foxconn
.
The company has a couple of high profile devices coming, including the BlackBerry Passport. This could turn out to be the business phone of the year with a high resolution screen,
and a unique QWERTY keyboard that doubles as a trackpad
. Speaking of trackpads, the 3.5 inch
BlackBerry Classic
will include one, along with old-school function keys. The Passport is due to be unveiled next month, with the BlackBerry Classic expected to see the light of day in November.
To run the new unit, Chen has called on Sandeep Chennakeshu, who starts immediately. Wall Street analysts like the move, with one calling the unit a long term call option that could pay off big for BlackBerry down the road.
"These are the call options for upside value that the market may not be factoring because it just looks too far away. In any good turnaround, you focus in on the immediate tasks at hand but you also look down the road and say 'Where do we want to be? And what assets do we have to get us there?"-Colin Gillis, analyst, BGC
source:
Reuters