The BlackBerry Passport QWERTY revealed
38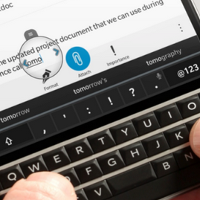 Besides the
Apple iPhone 6
, the Apple iPhone phablet and the
Samsung Galaxy Note 4
, the most eagerly awaited handset is the BlackBerry Passport. And the mystique around the box shaped phone, revolves around the QWERTY keyboard that comes with the device. Press on the keys to type letters, while punctuation and numbers will appear on virtual keys above, based on the context of what you are typing.
The virtual keys can be found on the screen, above the third row of letters. If you're writing an email, you will find the "@" symbol on a virtual key. When browsing the internet, you will see virtual keys available for the colon and the backslash. BlackBerry says that the QWERTY on the Passport, will allow users to type on the phone faster than ever.
BlackBerry notes that the Passport QWERTY combines tactile typing with touchscreen navigation. Navigate web pages, apps and emails by brushing your fingers lightly over the keyboard. That allows users to scroll through web pages faster. Take precision control over the cursor, by double-tapping the keyboard and dragging your finger over the keys. You can then move the cursor to the exact spot where you want it to be. Deleting a word is as simple as swiping to the left.
BlackBerry has a lot riding on this QWERTY, and on the Passport in particular. Last time BlackBerry tried something new with a QWERTY keyboard, the SurePress system on the
BlackBerry Storm
was launched. No, it never felt like you were typing on a computer keyboard, and the Storm turned out to be a major failure. Hopefully, history does not repeat itself here.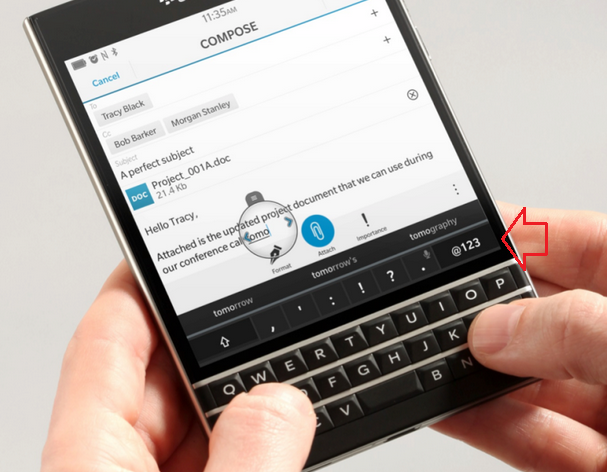 Check out the virtual keys on the BlackBerry Passport's QWERTY keyboard
source:
BlackBerry