BlackBerry browser is the fastest, beats out Opera Mini in average page load time
25
The results of the latest mobile browser study done by New Relic, which comprised more than 18 million page views from October 7th 2013, through November 7th of the same year, might not be a surprise to those who remember
how well the BlackBerry browser tested during the early days of BlackBerry 10
. Back about a year ago, the BlackBerry 10 browser was included in a benchmark test done on the Browsermark website. Up against other top browsers like mobile Safari, BlackBerry had the highest score at 2382. The Android browser on the
Samsung GALAXY Note II
finished second.
New Relic's study measured the page load times on mobile browsers. And as it turns out, BlackBerry led the way with the fastest results. The average page load time on the BlackBerry 10 browser was a swift 1.55 seconds. There was a huge gap between the WebKit built BlackBerry browser, and the next fastest one. That would be Opera Mini
4.2
, which had an average page load time of 4.78 seconds. Mobile Safari on the Apple iPad was next with an average page load time of 4.91 seconds.
Once a sore spot among BlackBerry users (think about how miserable surfing the web was on the
BlackBerry Storm
), the browser has become a source of pride for the Canadian manufacturer. It all started back in 2009 when
BlackBerry purchased Torch Mobile
, a company then known for its WebKit powered Iris browser.
Revealing the most popular mobile browsers is another story altogether. Safari led the way with 44% of the mobile space, followed by the 32% share owned by the Android browser. Chrome was third with an 8.7% share. Next came Opera with 8.7%. and Internet Explorer with a 3.3% slice of the mobile browser pie. The zippy BlackBerry browser was folded into a catch-all group called "others" which had a miniscule 2.2% share.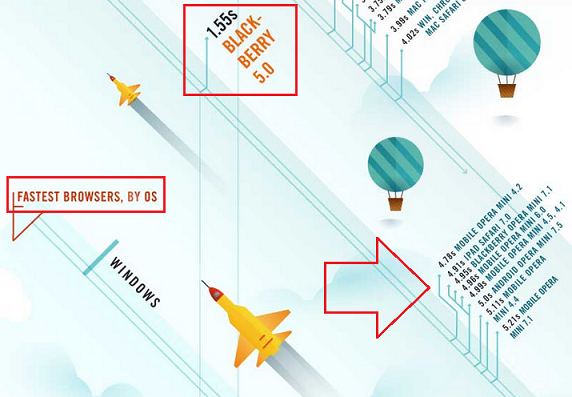 source:
NewRelic
via
Crackberry