BlackBerry Storm2 9520 to launch this week; 9550 to be released in November by Verizon?
25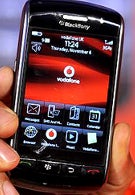 Verizon and Vodafone seem to have two different game plans when it comes to launching the BlackBerry Storm2. The Guardian is reporting that this week, the latter carrier will be releasing the BlackBerry Storm2 9520, the sequel to the Storm 9500. Like we've seen with videos on the U.S. version of the sequel model, the Storm2 9520 will have an improved SurePress typing system using piezo technology and 4 strategically placed sensors that allow for multi-touch typing. The screen is very responsive and the accelerometer almost reads your mind and shifts the orientation of the display quickly. Also included in the new version of the Storm is Wi-Fi, BlackBerry OS 5.0, threaded texting, and more durable rubber keys on the side. According to the story, Vodafone will offer the 9520 for free with a monthly service plan of at least 30 British Pounds (roughly $48 U.S. Dollars). That prices the Storm2 lower than the 34.26 British Pounds per month plan that O2 is expected to ask for the Palm Pre, launching on October 16th in the U.K. And while last year's launch of Vodafone's Storm 9500 was a disaster, the hardware and software improvements made to the device should allow it to be a competitive player in the market.
Now what about the Verizon BlackBerry Storm2 9550? We have
reported
that the phone is expected to launch on October 21st. A tipster has just told us that Big Red will not launch the Storm2 in October and that early November is a more plausible date. Remember that Verizon training video we
showed you
for the Storm2? Our tipster tells us that training classes are usually given to employees 1 to 2 weeks before a launch. The date on the video was October 21st. In addition, the device is not listed on the carrier's rebate forms and another tipster tells us that Verizon will not be training employees on the Storm until November 7th. Considering that last year, everyone complained that RIM and Verizon had rushed out the first-gen model, it probably is better to have patience and let the launch take place when the handset is absolutely, positively ready to go, right out of the box.
RIM BlackBerry Storm2 9520 Preliminary Specifications
RIM BlackBerry Storm2 9550 Preliminary Specifications
|
Review
source:
TheGuardian
(9520), Thanks to our generous tipsters! (9550)