BlackBerry Storm2 to launch October 21st?
18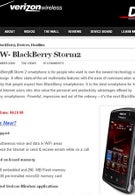 A leaked screen shot from Verizon's own intranet may be the key to discovering the launch date for the BlackBerry Storm2 9550. Before we give you the date, just a note on style. RIM and Verizon have decided to go with Storm2 as opposed to Storm 2, similar to the Touch Pro2. Now that we got that out of the way, Erictric was able to get a screen shot from Verizon's Intranet and it shows October 21st as being the launch date for the Storm sequel.
Big Red also lists some of the new features for the 9550, like Wi-Fi and enhanced typing with the improved SurePress (Piezio Technology, anyone?). Also interesting to note is that the handset will come with a 16GB microSD card (the original had an 8GB card) along with 2GB on board memory and 256MB of Flash. The pricing was not listed and this would be a good time to remind everyone that RIM and Verizon have not even introduced this phone yet to the public.
BlackBerry Storm2 Preliminary Specifications
|
Preview
source:
Erictric