Storm 2 training video leaks out for Verizon, Vodafone promo material is pictured
This article contains unofficial information.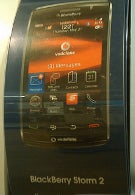 It wouldn't be a full day without some new video or pictures of the BlackBerry Storm 2. BerryScoop obtained a blurry video of a Verizon training film for the BlackBerry Storm 2 9550. While the grainy, shaky video may make you lose lunch, it gives you an idea of how the carrier is teaching employees about the handset. Besides the video, Crackberry was able to get photographs of retail display backings of screen protectors for the BlackBerry Storm 2 9520. All that we need now is for RIM, Verizon and Vodafone to acknowledge that this model exists. The reason for the delay could be due to that old chestnut, "Fool me once, shame on you, fool me twice, shame on me". No one wants to see a repeat of last November's launch of the first-gen Storm when the model was launched way too early for Prime Time.
RIM BlackBerry Storm 2 9550 Preliminary Specifications
|
Preview
RIM BlackBerry Storm 2 9520 Preliminary Specifications
source:
BerryScoop
(9550 video),
Crackberry
(9520 display)